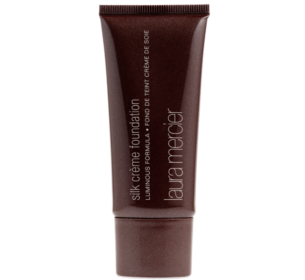 It's been a long time since I first started my search for the perfect foundation.
I have very fair skin which makes it hard to find a colour that matches me, I also have light freckles which don't seem to like to be covered up.
Laura Mercier Silk Creme claims to be a full-coverage, long wearing foundation. They also claim to have a variety of shades to suit every one including a large selection of shades with pink undertones which are hard to find in full coverage foundations.
My first instinct to when choosing foundations is to pick up the lightest shade and hope that it's light enough. The lightest shade in the Laura Mercier Silk Creme range is 'Cream Ivory' which was far too yellow for me. So I threw that one in the drawer and went back to by 'Rose Ivory' which was the shade darker.
The foundation has the perfect pink undertone, it applies very smooth, it wears for 8-9 hours (when set with powder, 6-7 hours when worn alone) and I can see how this could be called a full coverage foundation.
The problem I have the the foundation is the same that I have with all full coverage foundations.
When they say 'Full Coverage' they mean 'Full Coverage - as long as you don't have ANY freckles'.
The foundation leaves a flawless coverage, my skin tone is even, there is no red peeking through and it leaves skin looking dewy and fresh - almost like you're not wearing any make-up - but alas, there are the freckles, refusing to be covered and standing loud.
All in all, this foundation is fantastic. It's light as air and has a fantastic finish - it just shouldn't claim to be full coverage.
I do recommend this foundation to anyone. It would suit both dry and oily skin because it is water based and light. The shade variety is average but the undertones are spot-on perfect.
RRP $68